Garber was born on April 11, 1880 in Indiana. At 16 he started his art education at the Art Academy of Cincinnati, then
the Pennsylvania Academy of Fine Art, where he met his wife, artist Mary Franklin. Garber and his wife traveled to Europe to finish their education. Then on the advice of a friend they settled down in Cuttalossa PA, a few miles up the Delaware River from New Hope where he became a member of the New Hope Art Colony. In Europe he was inspired by Camille Pissaro and Claude Monet. Garber used this influence to develop his own style of high key, bright colors to depict scenes around the Delaware River with highly structured compositions and well structured trees. Garber taught painting at the Philadelphia School of Design for Women and then taught at the Pennsylvania School of Fine Art for 41 years.
Garber's work is represented by many Museum including the Metropolitan Museum
of Art, and his 33 painting awards include the National Academy of Design Hallgarten Award.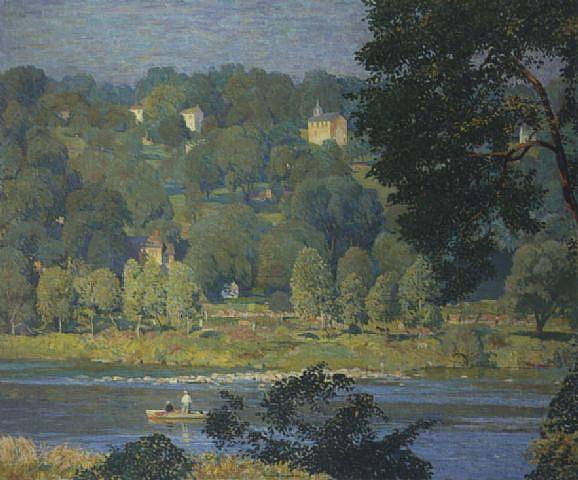 Garber died on July 5, 1958 when he fell off a ladder on his farm in Cuttaloosa, PA.
Pennsylvania Impressionism contains "Daniel Garber's luminous, poetic renditions of the Delaware River". Another choice that pairs well with "Pennsylvania Impressionism" is this book on Edward W. Redfield. Edward W Redfield: Just Values and Fine Seeing. I highly recommend both books for your library.